Hydro Facial – Red Carpet Hydrodermabrasion

Hydro Facial skin treatments combine non-invasive exfoliation with the infusion of skin-specific topical solutions to improve and revitalize the skin. An advanced form of microdermabrasion, Hydro Facials are unique because they do not use crystals. This safe and painless treatment is one of our most popular non-laser treatments.
We also offer Microdermabrasion/Vibraderm treatments.
What is Hydro Facial and what does it do?
Like microdermabrasion, Hydro Facial treatments are non-invasive mechanical exfoliation treatments without chemicals that remove the outermost layer of dead skin cells from the treated area. They differ from traditional microdermabrasion treatments in that they use a patented technology to perform the treatment with a system that gently exfoliates with different treatment tips while infusing topical solutions at the same time. Different topical vitamins or a combination of topicals can be used for each patient so the treatment can be customized to treat hyperpigmentation, acne, photo damage, and dehydration.
What areas are treated with Hydro Facial?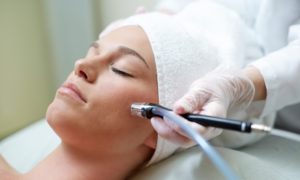 Most patients have Hydro Facials done to the face; however, the neck and chest are also often done. Although Hydro Facial treatments are most often done on their own, a mini version of the treatment can be done a few days after a deep IPL or FotoFacial treatment has been done to remove excess pigmentation or "coffee grounding" from these procedures. Also, we sometimes perform a Hydro Facial in conjunction with an advanced "laser facial".
What is a Hydro Facial treatment like?
To perform a Hydro Facial treatment, your technician begins with a deep cleansing of the skin.  Next the Hydro Facial treatment with customized solutions for your skin's concerns is done to the treated area, which takes about 15 minutes for a full face. After this step is completed, topical vitamins and minerals will be applied. Finally sunscreen is applied to the treated area. A full Hydro Facial treatment takes about 20-30 minutes.
*
What kind of results can i expect from a Hydro Facial treatment?
You should not expect significant results from a Hydro Facial treatment, although results are a bit more siginficant than a traditional microdermabrasion. Because of the customized solutions which are infused into the skin during the treatment, you will have a refined, polished effect for the skin, and depending upon the solutions used, you may have some additional benefits to acne or hyperpigmentation. However, results cannot be compared to benefits from prescription acne medications or results from IPL and FotoFacials. After a Hydro Facial treatment your skin should appear healthier and well-hydrated. These treatments are good to do before a big event, as they will make the skin look renewed and fresh. If you are doing these treatments in a series, you should expect to do them about once every 3-4 weeks, but because the machine is so gentle, you can truly have them done as often as you'd like. These treatments are safe to do on any age or skin type since the procedure is customizable.
*
How much does a Hydro Facial treatment cost?
Hydro Facial treatments (20-30 minutes) are $129 per treatment. Inquire about additional discounts for multiple treatments.
Frequently Asked Questions
Is Hydro Facial safe?
Hydro Facial is a simple, non-invasive procedure performed by our fully trained staff at Style MedSpa. The risks of traditional microdermabrasion are eliminated by the Hydro Facial's crystal-free technology and patients experience little to no discomfort.
How long does the Hydro Facial proceedure take?
Treatments typically last about 20-30 minutes. Plus, because the Hydro Facial delivers a dermaceutical during treatment, your post-treatment protocol is quick and easy.
Do you have a specific topical for my skin condition?
Hydro Facial addresses the most common skin conditions with topicals for hydrating, skin lightening, and acne.
What will my skin look like after a Hydro Facial treatment?
Your skin will have a warm, pinkish glow that will usually fade in about 30 minutes, leaving your skin looking healthy and renewed.
Will I miss work or have to alter my social schedule?
Hydro Facial can easily be performed on your lunch hour so you can return immediately to your normal activities.
How long does it take to see results?
While you may see visible results after the first treatment, lasting and more significant results will be seen after 4 to 6 treatments spaced at least 2 weeks apart, supplemented by a daily post-care routine.
Will there be any pain or discomfort?
You may feel a mild exfoliation and tightening that leaves the skin feeling healthy and smooth. The moisture of the topicals also leaves your skin with a cool, refreshed feeling.
Discover the best skin care rejuvenation system for your health and beauty needs by contacting by calling Style MedSpa at 610-572-3553 or email us at staff@stylemedspa.com.