∗ results are not guaranteed and may vary from person to person
Kybella Removes Under Chin Fat And Defines Jaw Lines.
Special:  $100 Off Per Purchase of 2 Treatments
Kybella is a non-surgical injectable for reducing moderate to severe fat on the upper neck/under chin. The injection contains a naturally occurring molecule which eats away at fat and leaves all other cells healthy and intact. The results are proven, noticeable, and lasting—so you'll look great from every angle.  Call 610-572-3553 for your complementary consultation.
∗ results are not guaranteed and may vary from person to person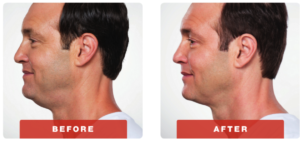 ∗ results are not guaranteed and may vary from person to person
Frequently Asked Questions About Kybella
Will Kybella work for me? Who's an ideal candidate for Kybella?
Kybella works well for most people, but an ideal candidate:
Has good skin tone
Has moderate to mild skin laxity in their neck
has excess fat in their neck and below the chin
What should I expect after Kybella treatments? Is there any downtime or recovery period for Kybella?
Some patients will experience mild swelling and potential bruising in the injection site for 2-3 days after injection. To minimize swelling, you will be instructed to wear a compression chin strap for the first 24 hours following treatment. We are happy to accommodate your schedule with evening and weekend hours.
You should expect to see full results from each session at about a month after injection, at which time you should come in for your next session, until you have reached the desired level of correction. It is not expected that you will need re-treatment in the future.
How long does the Kybella procedure take?
The injections take 15-20 minutes to perform. You will numb prior to injection, so you should plan to be in the office for about an hour total with each treatment.
How many treatments will I need?
Each patient's treatment plan will be customized to their aesthetic goals during their consultation. The number of treatments will vary between 2 and 6, with most patients needing between 3 and 5 treatments to see maximum results. Once you've reached your full results, we do not anticipate you needing more treatments, as long as you maintain the results with a healthy diet and exercise.
How much does Kybella cost?
Each syringe of Kybella is $600 per treatment, typically 2 or more total treatments required.
Is treatment painful?
We will numb the area with lidocaine, the same way your dentist numbs you before you have a cavity filled. After the numbing wears off there can be some tenderness that can be relieved by ibuprofen.
When will I see results from Kybella?
Changes are expected to become more evident after the second treatment takes full affect.  Usually results improve through 3 months after the second treatment session.
Can Kybella be used for fat in other areas?
Kybella is FDA-approved for use in the submental area below the chin and through the neck, and has been shown to be very safe and effective in treating these areas. However, there have not been sufficient clinical studies to show safety and efficacy in other parts of the body.
Be Transformed – Inside and Out!
Our goal at Style MedSpa is to help each patient look and feel like their very best self. With Kybella, you will experience a renewed sense of self-confidence and be transformed, inside and out.
Contact us now at 610-572-3553 to schedule your complimentary consultation with a highly trained platinum injector.
email:  sales@stylemedspa.com