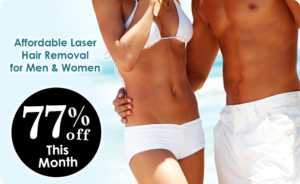 ---
We offer the lowest prices** in our region – 77% Off Special till month end.
Newest laser technology for most skin types.
Specializing in laser hair removal since 2001.
Safety is always our priority.
Our Goal – Results – Body & Facial Hair Reduction
Ask about our Life-Time Maintenance Program
The Style MedSpa/Laser Hair Removal Center has developed a unique method to reduce facial and body hair to achieve that smooth feel and appearance. Laser Hair Removal is a tremendous treatment to rid yourself of unwanted, embarrassing hair on basically any body part for men and women. The lasers can pulse various times per second across the surface of the skin. Each "pulse" of light disables a large numbers of hair follicles. A laser treats any "active" follicles, even if the hair has not yet reached the surface of the skin, or even if the hair shaft is not straight – including in-grown hairs.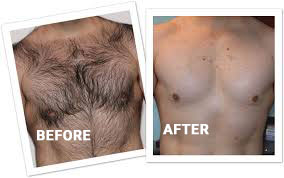 ∗ results are not guaranteed and may vary from person to person
The number of sessions will vary for each individual. During your treatment, the laser will disable those follicles in the "active" phase of the growth cycle. Since follicles go through "active" and "dormant" phases, additional sessions will be required once the "dormant" follicles become "active". For this reason, various treatments are required.
Laser hair removal has come into the forefront for removal of unwanted body hair. Many men and women have discovered this method for treating unwanted body hair in all areas such as the face, back, chest, underarms, bikini areas, shoulders, and legs.
Any patients ask how effective is it, does it reduce the hair growth, and how many treatments does it take.  Studies and our experience has shown that on average patients notice as much as an 80-90% reduction after a series of regularly scheduled treatments, results may vary.  Because every patient will have different anatomic variations (i.e. skin tone, hair color and density), multiple treatments are necessary to see a significant reduction in hair growth. Laser hair removal is the most advanced, effective, safest, fastest and most cost effective method for hair removal.
As a consumer we feel you should be looking at 3 areas:
Lasers: Style MedSpa utilizes the newest laser technologies available.  We can safely treat most skin types utilizing our super long pulsed Alexandrite laser, super long pulsed Diode lasers, Yag lasers & IPL. There are 4 different laser families on the market and we have all 4.  Having all 4 laser families gives us a huge advantage over other companies that just have one or two. This assists us in providing safe and desired results. We do not treat skin type 6 nor should any facility, skin safety is so important.
Laser Clinician: We have experienced laser technicians with superb ongoing training.
Price: We stand behind our treatments by offering our customers the lowest prices** for laser hair removal treatments in our region. Click here for our price sheet.
Price is always important but results are what we desire. Our trained laser clinicians will personally design a program for you to obtain your desired results. With laser hair removal the two most important factors to keep in mind are the actual laser being utilized for treatments (proper wave-length) and the proper protocol by your laser clinician.
*
Alexandrite, Laser Hair Removal – Back Procedure  ∗ results are not guaranteed and may vary from person to person
*
Laser Hair Removal for skin of color (Yag Laser) ∗ results are not guaranteed and may vary from person to person*
Light Sheer Diode XC 400, Safe for most skin types  ∗ results are not guaranteed and may vary from person to person*
Super Long Pulse Alexandrite Laser, Super Long Pulsed Diode LASER, Yag lasers for darker skin patients & IPL'S. The NEW Super Long Pulse Duration Alexandrite and Diodes are the "Gold Standard/Premier Lasers" for most skin types to achieve permanent hair reduction.  Our customer travel as far as New York, New Jersey, Delaware and even Florida to get treated by our lasers.
What is Super Long Pulse? It is the speed in which the laser delivers the energy/power to the skin. The slower the delivery of the energy/power the safer the treatment is to the skin and it allows us to treat darker skin safely with more comfort.
What you need to know:
Not all lasers are the same: We suggest that you utilize a laser with a high melanin absorption rate (Alexandrite and Diode lasers with new "Super Long Pulse Durations") that is specifically designed for hair removal and has been the Gold Standard in permanent hair reduction.
To get the most effective treatment you should be at your lightest natural skin color and the hairs should be dark in color. There are no lasers that can treat blond, gray, red or white hairs.
Timing is extremely important: You have 3 cycles of hair growth stages/cycles (Anagen, Catagen and Telegen). Hairs have the best results when treated in the Anagen stage. You should maintain the treatment intervals that the laser clinician has issued for you. The bottom line is to rid yourself of unwanted body or facial hair in the fastest period of time while spending the least amount of money.
IPL Warning for hair removal: A 2005 Study by the American Society of Laser Medicine and Surgery (ASLMS) demonstrated that Intense Pulse Light (IPL) is clearly inferior to lasers when used for hair removal. Many cosmetic medicine physicians and Medical Spa facilities are of the opinion that IPL can require up to two – three times or more as many treatments compared to  alexandrite and diode lasers.  While looking at different facilities simply ask them if the machine they use is a IPL (if the machine is not a Alexandrite, Diode or Yag then it most likely is a IPL), regardless of the name of the machine. Everyone thinks all laser are the same, but this is not true. We utilize only true laser technology with highly experienced laser clinicians.
Most patient will need at least 8-10 treatments to achieve desired results.
Laser Hair Removal is a reduction process that requires multiple treatments. We consider successful results between 80-90% permanent hair reduction.  Results will vary from one person to the next, due to genetic cycling on hairs.
You should not tan or spray tan prior or during your laser treatments.
When getting laser hair removal our concern is always skin safety first and then hair removal.
We can not treat you if you are pregnant, taking photo-sensitive medications, pace makers, history of keloids or cancer.
Style MedsSpa/Laser Hair Removal Center is a Physician supervised facility that has been specializing in Permanent Hair Reduction since 2001.
Don't always look for the best priced deal. There are many factors for a successful treatment. Spend your money to obtain RESULTS in the shortest period of time while spending the least amount of money in the end. The most important part of the treatment is the actual physical laser machine itself; this is where you should spend your money. If you want a super cheap price – we can do that. We will just give you a super cheap/lower end laser that will take endless amount of treatments and you will spend more money in the long run. The funny thing is that lower end lasers are the type of lasers many of our competitors utilize as their primary machine. We utilize the best rated laser families in the world for laser hair reduction with the very newest technologies. We have found that an educated consumer is the best customer.
Hormone issues, Polycystic Ovary Syndrom (PCOS): click on link to read article
While some breakthroughs never live up to their reputation, laser hair removal continues to deliver on what it promises. Yet one group of researchers proved a need for improvement in the effectiveness of laser hair removal. The solution was a process that understands the various growth cycles of hair at different places on the body, and the necessity for a more complete treatment regimen. The result is the newest revolution in hair removal. Before you can fully understand the process of laser hair removal, you need to know a few things about hair itself.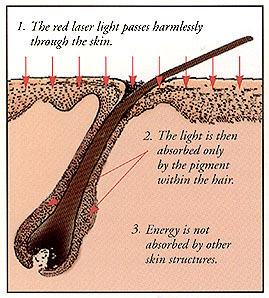 To begin with, many things influence hair growth-your age, ethnicity, weight, metabolism, medication, hormones… each play a role in your hair's resilience, thickness and areas of growth. Also, your hair grows in cycles-the active or growth (Anagen) phase, the dormant (Catagen) phase, and the fall-out (Telogen) phase. Medical science has determined that the laser effectively treats only the hair in the Anagen (growth) phase, and different areas of the body have different growth cycles. Therefore we must treat each at the specific time it's in the growth phase for the treatment to be effective. This is the very essence of The Laser Hair Removal Center process. Clinics that offer only one or two treatments are missing the essential part of an effective, long lasting hair removal program. The Laser Hair Removal Center allows hair to gently be removed from your lip, chin and bikini area, as well as your arms, legs, back, shoulders and any other body part. You won't feel the need to wax, shave, tweeze or use depilatories ever again. With our unique process, you won't feel the need to go through treatments that are painful, inconvenient and temporary. So if you want the ease, the beauty and the confidence that comes from hair-free skin, visit our Laser Hair Removal Center and experience the latest technology and dramatic results.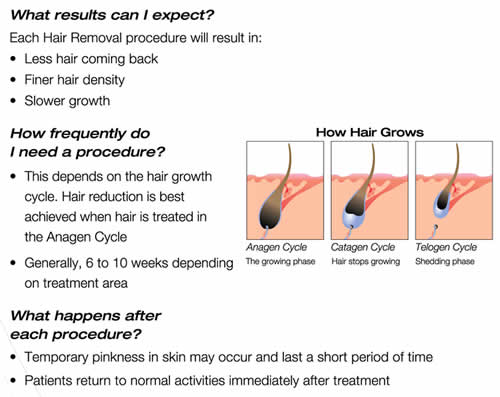 Why use the Alexandrite and Diode Lasers over other hair removal systems?
The Alexandrite and Diode lasers are specifically designed for Laser Hair Removal and the most advance lasers on the market. Choosing between the right laser will make the difference in treatment results and how many treatments that is required. We have chosen this laser family because of the extensive clinical and basic science research, which has proven its effectiveness for permanent hair reduction. Other laser hair removal systems that we have investigated cannot make that claim. Also, the Alexandrite and Diode families have the highest melanin absorption rate of all lasers we have tested. Simply put, we believe the Alexandrite and Diode lasers are absolutely the most effective, safest and fastest laser available for the elimination of unwanted hair for most skin types.
Why is Melanin absorption so important in Laser Hair Removal?
The laser targets melanin specifically in the hair. The more melanin absorption, the better results you will achieve. The Alexandrite and Diode lasers have better absorption of Melanin than Yag and IPL's, which have very poor melanin absorption.
How much does it cost?
Treatment cost are determined by the body part you want treated and how much or little area is required to treat. Style MedSpa/Laser Hair Removal Center offers free consultation to design and determine exact pricing. We guarantee the lowest prices** in the Lehigh Valley/Montgomeryville region (laser for laser) for laser treatments. While price is very important, choosing the right laser for your treatments is even more important. There are some very good lasers on the market and a lot of very bad laser out there for hair removal. By choosing the best laser will reduce the amount of treatments that you require and in the end save you boat loads of money. Our objective for you is to rid yourself of unwanted hair while spending the least amount of money.
Why are your rates so affordable and why do you have such great specials?
Laser Hair Removal is a large part of our business and we have been specializing in it since 2001. We try to keep our internal cost low for our customers to be able to afford the beauty of being practically hairless. You won't see marble floors and fancy waterfalls when you enter our facilities. But, you will see a very clean and professionally decorated facility and our highly educated staff you put you at ease with complete professionalism.
What about home lasers I see advertised on TV
Lasers need to deliver at least 13 J of energy to kill hair. Home units don't even produce 2 J of energy. They units are not actually lasers they are flash lamps or diodes like in a pen pointer.
How does Laser Hair Removal compare with other hair removal methods?
Shaving, waxing and depilatory creams are all temporary methods, which must be repeated on a frequent basis. Laser Hair Removal will offer longer lasting results. Electrolysis is a tedious, invasive and painful process that involves inserting a needle into each hair follicle and delivering an electrical charge to destroy them one at a time. Electrolysis also can only treat those hairs that they can see and which they can reach the follicle through the hair shaft. A laser treats any "active" follicle, even if the hair has not yet reached the surface of the skin, or if the hair shaft is not straight. Electrolysis typically involves years of treatments at regular weekly intervals, which is very time consuming. The Laser Hair Removal Center, Alexandrite and Diode lasers can kill hundreds of hair follicles in a few seconds. In just a few minutes we can treat an area that would take weeks, months or even years with electrolysis.
How many treatments will I need?
Interestingly, not all hairs actively grow at the same time. They actually go through three distinct phases: growth, regression, and resting. The Alexandrite/Diode lasers works by disabling the hair that is principally in the active growth phase at the time of treatment. Since other hairs will enter the active growth phase at different times, additional treatments will be required to disable all hair follicles in a given area. There are many factors to consider when deciding on how many treatments you will need (age, hormones, ethnicity, diet, medication, metabolism and medication all play a role in your hair's location, thickness and resilience). Our staff will work with you to develop the best program that fulfills your personal needs. Treatments are usually given at intervals of 6-12 weeks and most likely you will require at least 8-10 treatments. You need to commit yourself both financially and psychologically, laser hair removal is a process – our goal is to make you virtually hair free.
What happens after my treatment?
Within several minutes, the treated area may become slightly puffy and red. This reaction will subside quickly. Within a few hours to a day or so the area will return to normal. Depending on the areas treated you should plan your work and social activities accordingly.
Usually around 2 weeks after treatment you may experience what seems to be re-growth of hair, but actually isn't. We refer to this as shedding, where the hairs eventually release from the root and they simply will fall out. Note, not all hairs may shed. You can utilize a loofa sponge with body oil or soap while showering to help the hairs shed faster or try Epsom salts for any pustules that may arise or to rid skin of treated hairs. In between treatments you should not wax or pluck your hairs and avoid sun exposure. Shaving is permitted and recommended.
To obtain optimum results, please follow these instructions:
Shower or Bath prior to coming in:  We want the skin clean to treat.
Sunscreen:  It is recommended that you do not actively tan 6 weeks prior to your treatment and do not tan in-between treatments. It is recommended that you protect the treatment site with a sunscreen with a physical zinc based SPF of 50, which blocks both UVA and UVB rays. Apply daily before going outside. You should avoid sunbathing, self-tanning creams, spray tanning or tanning beds between treatments. The Alexandrite and Diode lasers will work on most skin types, but the lighter you can allow your skin to get, the better and safer your treatment is likely to be. Lighter skin allows us to maximize the energy we can deliver to the target area.
Hair Removal:  NO WAXING, ELECTROLYSIS, TWEEZING OR USING DEPILATORIES FOR 3-4 weeks prior to your laser treatment.
Duration between treatments:  Generally, it is best to wait 6-8 weeks between treatments. There is no advantage to scheduling your visits closer together even if you do not see immediate results. The laser only targets hair in the growth phase. The next growth phase will be in 6-8 weeks.  We will never treat prior to 6 weeks apart.
Hair removal on the face:  Do not use (or make sure you wash off all) makeup prior to your treatment. You may use cosmetics after the treatments.  Post laser cream is required to purchase.
Accutane or Gold therapy:  If you are currently on Accutane or Gold Therapy or have been in the past 6 months, please let us know. These medications can make your skin more susceptible to damage from the laser.  You may not get treated.
Is there anything special I need to do before each Treatment?  We will provide you with complete pre and post care instructions. In general here are some important things for you to do (or not do) prior to your laser hair removal treatments:
Shower or bath prior to coming in, we want the skin clean (especially private areas). We will not treat unclean skin (especially on private areas).
Shave the treatment area a few hours before your treatment.
Do not wax, pluck, tweeze, use bleaches or hair removal creams during your treatment series.
Avoid sun exposure, self tanners, spray tanning and tanning beds at least 6 weeks before treatment.
Use sunblock with physical Zinc based SPF 50 on areas to be treated that are exposed to the sun.
Stop using Retin-A or Glycolic products 3 days prior to treatment.
Do not take antibiotics 2 weeks prior to any treatment.
The Normal Course of Healing
Most patients will develop redness and minor edema (swelling) in treated areas. You should utilize the prescribed post laser cream at least 2-3 times per day for 2 to 3 days as needed for redness, irritation or swelling. Mild discomfort after treatment is expected. Most people return to normal activity right away.
Avoid Direct Exposure to Sunlight..
Until any signs of redness or irritation have subsided for at least one week. Always wear a sunscreen with a physical Zinc based SPF of at least 50 that blocks both UVA and UVB rays. Completely cover any areas that have a crust present.
Returning to Normal Activities
Protect the skin from rubbing or abrasions and avoid contact sports for one week.
Cleansing of the Skin
Gentle washing of the treated area is acceptable, however, care should be taken not to rub the skin or to allow even the direct pressure from a shower water stream to strike the skin directly. The treated skin is more fragile after Laser Therapy and can be injured more easily than normal.
If You Have Had Facial Treatment…
Use a gentle cleanser and/or water to remove the makeup. Avoid abrasive or acidic lotions, cleansers, etc. during the healing process. Avoid sun exposure to your face after treatment for several days. Always wear a sunscreen of SPF 50.
Medication
Avoid any irritating medications or chemicals, particularly on the face. Examples of these are Retin-A, Benzyl peroxide, glycolic acid or astringents.
Please note: Usually around 2 weeks after treatment you may experience what seems to be re-growth of hair, but actually isn't. We refer to this as shedding, where the hairs eventually release from the root and they simply will fall out. You can utilize a loofa sponge with body oil or soap while showering to help the hairs shed faster or try Epsom salts for any pustules that may arise or to rid skin of treated hairs.
If you have any concerns what so ever please call us at 610-572-3553. We are always willing to assist our customers.
24 hour cancellation notice for all appointments or a fee of $45
**We will price match laser for laser in our geographic area of the Lehigh Valley and Montgomeryville area.