Newest Technology for Acne Scar Treatments, Collagen Improvement, Wrinkles and Stretch Marks: RF Induction
*

*
How RF Induction Works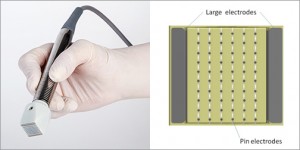 As you can see the RF Induction hand-piece consists of two metal plates and an array of tiny pins between them. When radio-frequency energy is applied, it passes into the skin as it flows between the pins and the plates.
This is a bipolar system. In other words, the energy passes between the pins and plates rather than just being blasted into the skin. This is a significant design advantage of the RF Induction system.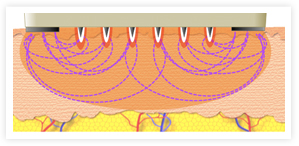 RF Induction Delivering Radio-Frequency Energy
This diagram shows how the energy flows between the pins and the plates as the device is pressed onto the skin. Note how the energy goes deeper the farther the plate is from the pin. This allows for a uniform delivery of energy to the dermis, the deeper layer of the skin, which thins out as we age.
The energy stimulates cells known as fibroblasts to go into overdrive, producing collagen and plumping up the skin. These cells continue their "knitting" for over 6 months, so the effect increases with time.
If you are interested in a more in depth discussion of how different systems work as well as a glossary of the often-confusing terms applied to various resurfacing systems, click on the links below.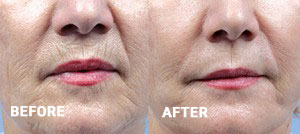 ∗ results are not guaranteed and may vary from person to person
RF Induction In Action
A frequent issue as we age is the development of fine lines and deeper creases around the lips. These "smokers lines" occur whether or not we once smoked cigarettes.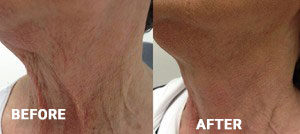 ∗ results are not guaranteed and may vary from person to person
Although RF Induction is not a substitute for a neck lift, it can do wonders for the fine lines that occur in the neck as we age. RF Induction can also be used to resurface the full face. Note particularly the nice changes in the forehead.
Patient Choices with RF Induction Resurfacing


∗ results are not guaranteed and may vary from person to person
RF Induction resurfacing can be customized to your needs. A single treatment at high power settings can produce a significant benefit, but carries a longer period of downtime. This is still much shorter than the recovery period after laser resurfacing.
The most common approach is a series of three treatments at a middle level of power with treatment intervals of 4 to 5 weeks. This allows for quick recovery yet a very powerful cumulative effect.
For patients who desire a freshening of the skin with essentially no down time a lower energy sublative treatment is possible. We usually carry out three to five treatments every three to four weeks.