Have you begun to develop unsightly cellulite on your legs? This aesthetic problem affects many women as they age. Fortunately, women no longer have to deal with this cosmetic problem and can now look and feel their best with a simple, non-invasive aesthetic treatment — Z WAVE.  This treatments also greatly improves the results of non ablative fat reduction treatments such as Vanquish Me and combined with Cellulite treatments.
Style MedSpa is proud to provide patients with a comfortable and friendly place to receive non ablative treatments. Our staff takes great pride in his ability to develop a personal relationship with every single client. If you'd like more information about our practice or are interested in scheduling a consultation appointment, contact us today!
What is Z WAVE?
Z WAVE is a revolutionary new, entirely non-invasive treatment that uses the power of vibrations to reduce the appearance of cellulite and give you tighter, younger-looking skin. These vibrations are strong enough to improve the appearance of cellulite while still being gentle enough to cause no downtime or adverse side effects.
This treatment can either be used on its own or in conjunction with other body contouring treatments, like the Vanquish ME body sculpting treatment. Z WAVE is perfect for patients that want to reduce the appearance of cellulite without surgery or extensive downtime, or for patients that want to enhance the results of other body contouring treatments.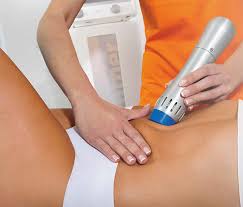 How Does it Work?
Cellulite has a variety of different causes, most of which have to do with the underlying structures beneath the skin's surface. This treatment uses the power of vibration to stimulate the structures responsible for the development of cellulite. A Z WAVE treatment increases lymphatic drainage, helps speed up waste eliminate, and hastens blood flow. It also breaks up some of the skin fibers that pull the skin down and cause the dimpling that is characteristic of cellulite. When used in conjunction with another cellulite reduction treatment,
Z WAVE helps further correct these structures and attract healing growth factors and nutrients to the treatment area.
*
Am I a Candidate for Z WAVE?  
Nearly any woman that is interested in reducing the appearance of her cellulite is a potential candidate for a Z WAVE treatment. This procedure can be used on clients of all ages and skin types. Anyone interested in this treatment should expect to undergo between 4-6 sessions over the course of a few weeks.
If you're interested in using Z WAVE on its own or in conjunction with another body contouring treatment, you must first schedule a complementary consultation appointment. During this appointment, we will talk over your cosmetic goals, current state of health, and medical history in order to decide if this treatment is right for you.
Contact Style MedSpa today to schedule your very own consultation appointment. We look forward to hearing from you, and making you part of our practice's family!